Regular price
₱150.00 PHP
Regular price
Sale price
₱150.00 PHP
Unit price
per
Sale
Sold out
Harley's Goat Milk Kefir is a powerful probiotic made from raw goat's milk. It contains gut-friendly microorganisms and has a wide variety of live probiotic strains. The sour tang of kefir is the result of bacteria and yeasts consuming the milk's sugar (lactose) for fuel thus kefir contains little to no lactose, perfect for the lactose intolerant!

Our products are made in small batches to ensure freshness. No antibiotics, hormones, steroids, additives, nor preservatives. Only 100% goodness for your pet!

Weight | 250mL / 1 Liter

Key Benefits

Great source of calcium, phosphorous, magnesium, vitamin B, vitamin K2, enzymes and probiotics

Helps restore balance of good bacteria in your gut, making it helpful in treating diarrhea

Has anti-inflammatory, anti-cancer and anti-tumor properties

A natural antibiotic and anti-fungal

Helps eliminate yeast infections

Improves bone health and lowers the risk of osteoporosis 

Aids digestion and weight management 

Alleviates allergy symptoms such as itching

Safe For | Humans and Pets

Suggested Serving Size | This is intended for intermittent or supplemental feeding only.

For human adults: Start with 100mL per day until tolerated, then increase to up to one (1) cup per day

For pets: One (1) teaspoon for every 10kg body weight per day

Feeding Instructions | Pour into your cup or your pet's bowl. Make sure to follow suggested serving size.

For first timers, introduce it slowly and monitor possible reactions.

Please ensure that your pet always has access to plenty of fresh water.

Storage and Shelf Life

When Refrigerated: Up to 2 weeks

When Frozen: Up to 2 months
View full details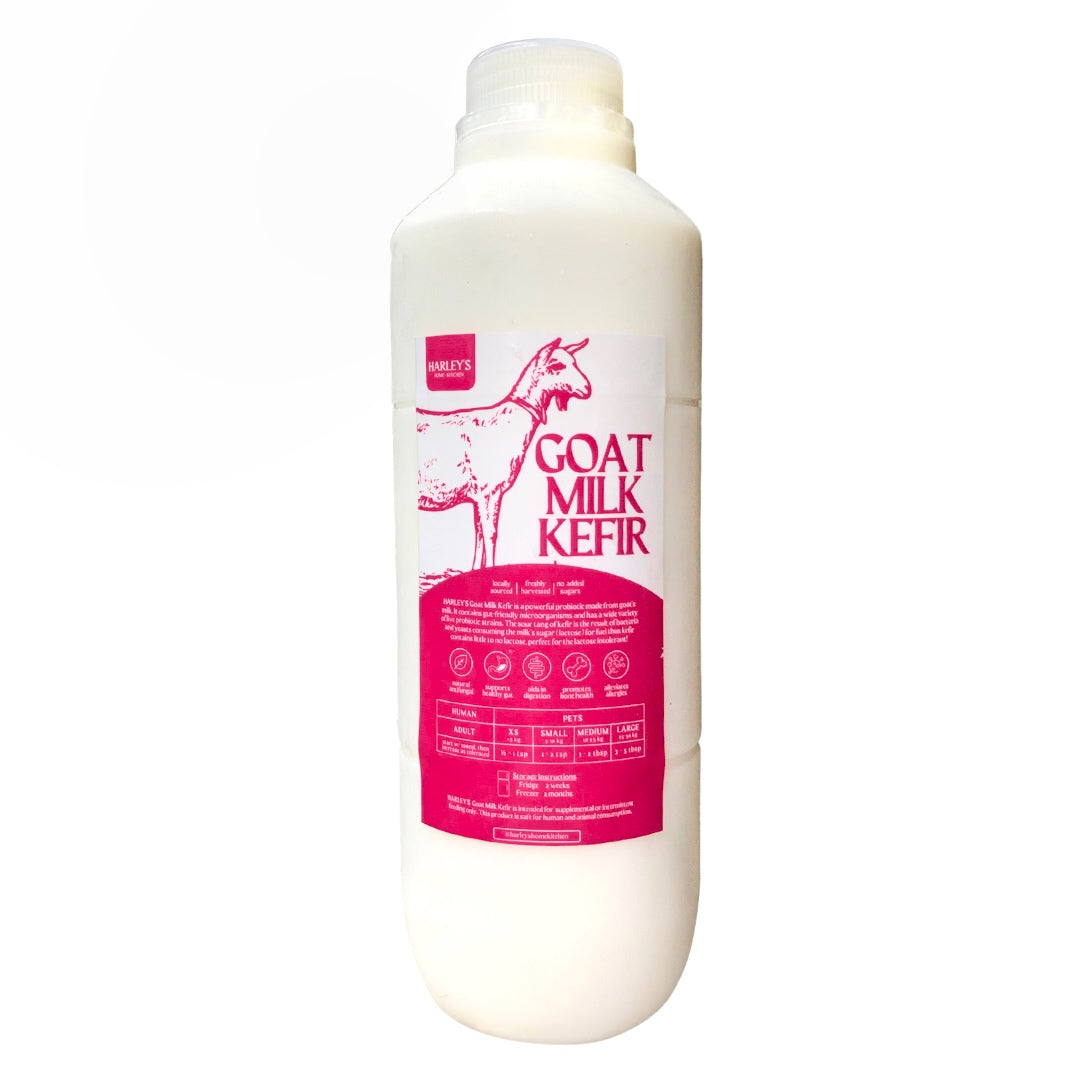 GMK FOR ME AND MY DACHS!
Originally the goats milk kefir is for our Hund dog. We are are so happy with the quality of your GMK and we have been ordering it for the past 2-3 years. Since, GMK is known for all nutrients necessary for everyday health, immunity most especially for a healthy gut - we humans decided to take it too - Seriously, we are thankful that your GMK is safe for human consumption. Not only with the quality of your product that you excel but also how you handle our delivery with care and fast shipment. Thank you very much and continue doing what you do best!